Review: Addi Swing Ergonomic Crochet Hooks
June 3rd, 2017 | Leave a comment | by Nea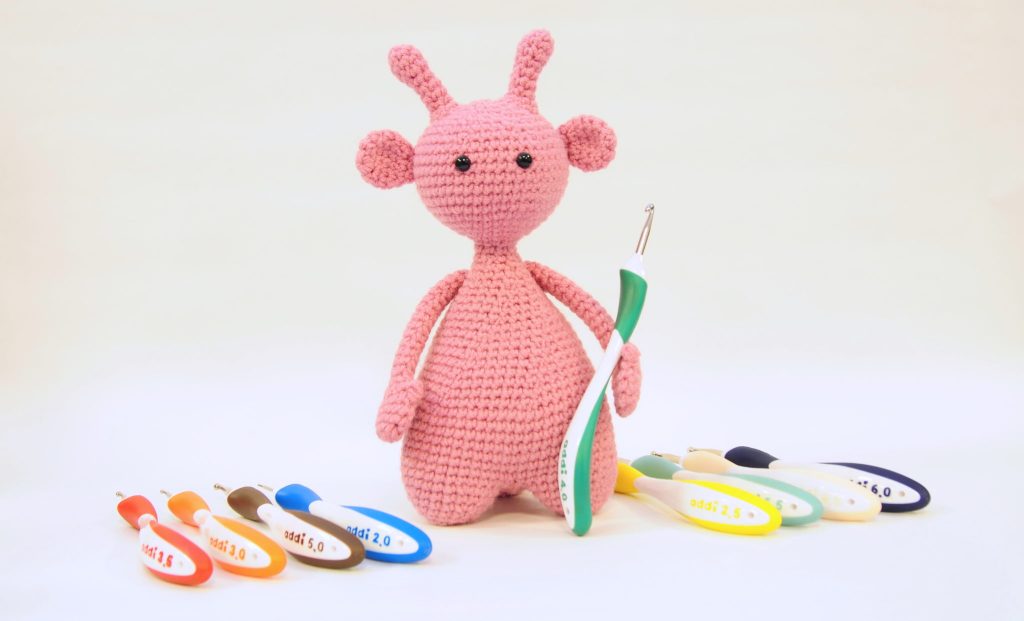 Hey guys!
Today I want to talk to you about my favourite hooks, the Addi Swings!
This is not a sponsored post and any opinions and thoughts expressed in it are entirely my own.
Background
So, I don't know if it's the size of my hands or the way I hold the hook (or both), but regular crochet hooks have a tendency to chafe my hand. The end of the crochet hook sits in my palm and when I crochet it moves, slowly digging a hole. When it really started to bug me I began searching for alternative hooks that would fit my hand and crochet style better.
I found the Addi Swing crochet hooks and I thought that they looked nice, but I had never spent that much money on a single crochet hook before. Not that they are very expensive, because they really aren't, but I was a student and crocheting was only a hobby. Anyway, I finally decided I should at least try one, so I ordered a size 4mm, the size I use most.
When I first got it I felt a bit odd, being ergonomic it has a special shape to it, but it didn't take long for me to get used to. I loved it, so I ordered the rest of the sizes I wanted. Even if crocheting is just a hobby, it is not temporary, and I will get a lot of use out of these hooks. Plus, because they're ergonomic I can crochet for much longer periods of time without feeling any discomfort in my hands or wrists.
Looks and material
I think the Addi Swing crochet hooks are colourful and fun, and a conversation piece, having such an odd shape.
The aluminium tip is tapered and works really well in my opinion. The handle is made entirely out of plastic. The white is a hard glossy plastic, while the coloured is a slightly soft to the touch, matte plastic.
Since the hooks are designed and manufactured in Germany the hook size is specified only in millimetres. The hook size is not printed on but rather etched in properly, so it will not fade with wear.
Measurements
The hook and shaft measure around 2.5-3cm, depending on the size of the hook, the smaller sizes are shorter. The plastic handle measures  around 13-13.5cm, depending on the size of the hook, smaller sizes have longer handles. In total each hook measures approximately 16cm, which is like a whole cm more than regular hooks!
That extra cm means they do not chafe my hand when I hold them. As you can see in the image above and to the left, there's plenty of handle left holding it. Compared to the picture below to the left where you can see that the end of the crochet hook hits the flesh of my hand.

The only downside to the Addi Swing hook is really that the shaft is quite short compared to many other kinds of hooks. It makes it harder to complete stitches that require you to have many loops on the hook at the same time.
Conclusion
Pros
– Ergonomic
– Tapered
– Size wont fade with use (and even if it did, the hooks are colour coded)
Cons
– The shaft is a bit short
For me the Addi Swing crochet hooks are a great match. I love crocheting with them, and they allow me to crochet for hours at a time. So, I would say that you should invest in these hooks, but crocheting is very personal. So maybe just try one size first to see if you like them. Everyone has their own style, and just because these hooks are a good fit for me, doesn't mean they are for you.
What are your favourite crochet hooks to use?