Boo the Ghost: Free Amigurumi Pattern
October 21st, 2017 | 24 Comments | by Nea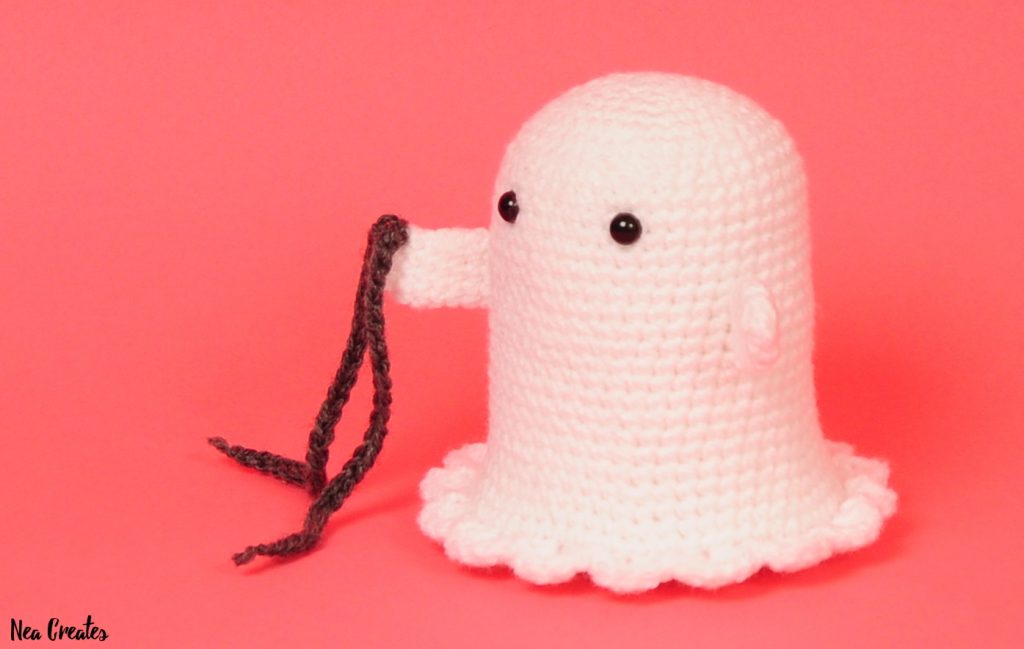 Hey guys! I've finished the pattern for Boo the Ghost!
I thought this would be a good pattern now that halloween is coming up. He's pretty cute, if I do say so myself, rattling his (crochet) chains!
I don't have a back story for Boo, I just had an idea I thought could work and it did, yay!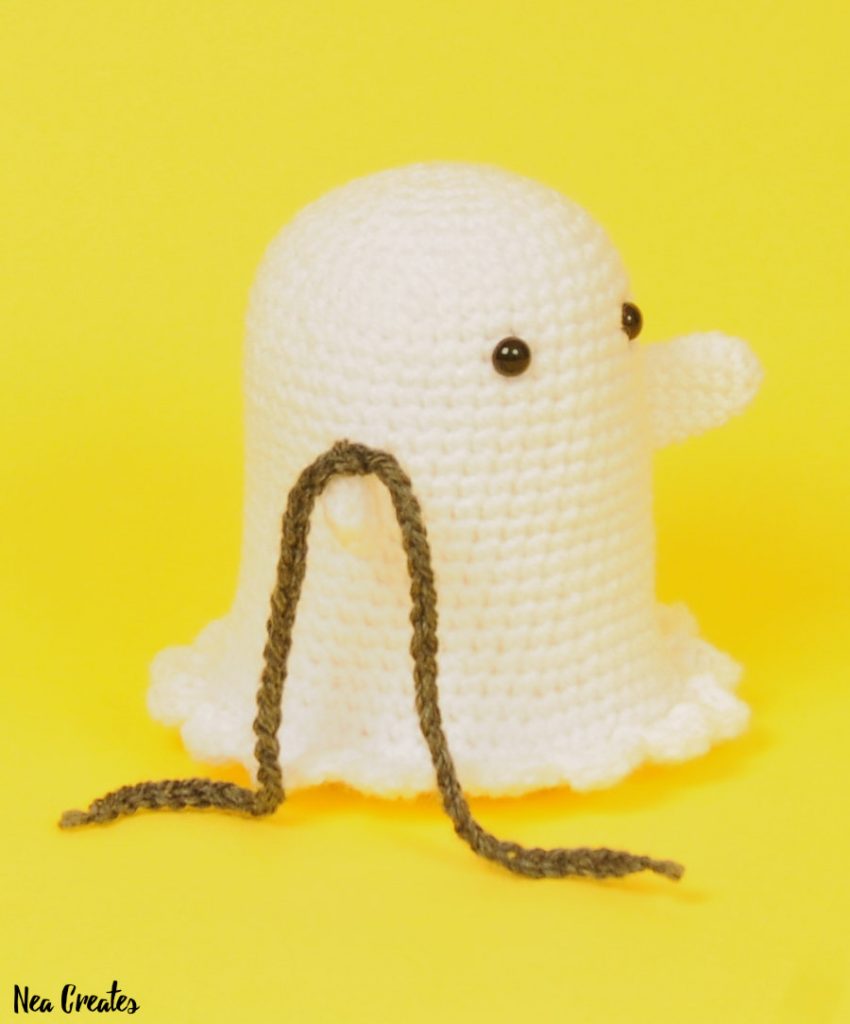 2018 update: I crocheted another Boo and thought I'd share him with you guys. As you can see Boo is equally cute without arms and his chains!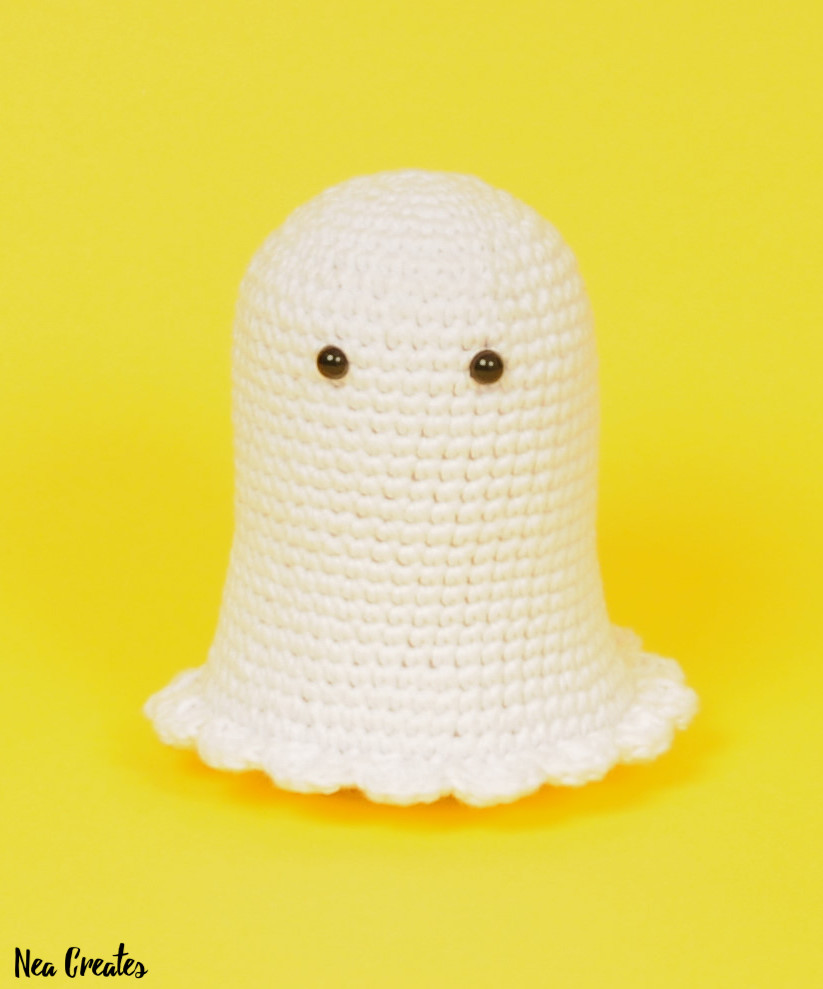 About the pattern
You can buy a bundle of two beautifully formatted PDF versions of this pattern on Etsy. One version uses color, while the other is made in black and white to be more printer friendly.
Add this pattern to your Ravelry queue on the Boo the Ghost Ravelry page.
Disclaimer: This pattern is an original pattern by Nea Creates, it may not be redistributed in any way, shape or form. If you want to share the pattern you may link to the pattern post, you may not repost the pattern on your site. Items completed from this pattern may be sold, provided that you give Nea Creates credit for the pattern and provide a link to the pattern post or the Nea Creates home page.
Size: 14cm tall & 9cm wide.
Difficulty: Easy/Intermediate
Notes: This pattern is written in English, US crochet terminology and SI units are used throughout. I use a smaller hook size than the yarn calls for to get tighter stitches. Boo is crocheted in continuous rounds. All measurements are approximate & will vary with your yarn & tension.
Materials & Tools
– Yarn calling for a 5mm crochet hook in 2 colors, e.g. Favorite by Ice Yarns
– A 4mm crochet hook
– A pair of 8mm safety eyes
– Stuffing
– Stitch markers
– Scissors
– Yarn needle
Abbreviations & Stitches used
R# – Row/round number #
P# – Picture number #
N – Note/instruction
yo – Yarn over
pt – Pull through
st(s) – Stitch(es)
lp(s) – Loop(s)
sk # – Skip # sts
mr – Magic ring/circle/loop
scp – Scallop: 5 dcs in same st
inc – Increase: 2 scs in same st
idec – Invisible sc decrease (normal decrease works too)
fl(s) – Front loop(s)
flo – Front loops only
bl(s) – Back loop(s)
The Pattern – Boo the Ghost
Body
R1 6 sc in a mr (6)
R2 6 inc (12)
R3 [inc, sc]×6 (18)
R4 [sc, inc, sc]×6 (24)
R5 [inc, 3 sc]×6 (30)
R6 [2 sc, inc, 2 sc]×6 (36)
R7 [inc, 11 sc]×3 (39)
R8 [6 sc, inc, 6 sc]×3 (42)
R9 [inc, 13 sc]×3 (45)
R10-24 45 sc (45)
R25 [7 sc, inc, 7 sc]×3 (48)
R26 [inc, 15 sc]×3 (51)
R27 [8 sc, inc, 8 sc]×3 (54)
R28 [4 sc, inc, 4 sc]×6 (60)
R29 [7 sc, inc, 7 sc]×3, 7 sc, inc, 6 sc, ss in fl of last st, mark bl (64)
R30 [sk 1, scp in fl, sk 1, ss in fl]×15, sk 1, scp in fl, sk 1, ss in ss of R29 (64)
R31 ch 1, sc in marked bl from R29, working in bls from R30 P1, 6 sc, idec, 7 sc, [7 sc, idec, 7 sc]×3 (60)
N Insert safety eyes between R11 & R12 with 7 sts between.
R32 starting in first sc of R31, [4 sc, idec, 4 sc]×6 (54)
R33 [idec, 7 sc]×6 (48)
R34 [3 sc, idec, 3 sc]×6 (42)
R35 [idec, 5 sc]×6 (36)
N Stuff continuously from here.
R36 [2 sc, idec, 2 sc]×6 (30)
R37 [idec, 3 sc]×6 (24)
R38 [sc, idec, sc]×6 (18)
R39 [idec, sc]×6 (12)
R40 6 idec (6)
N Make sure body is stuffed & shaped to your liking. Ss in next st. Leaving a yarn tail for closing, cut yarn & pull out of last st. Weave yarn tail around flo of remaining sts (6) P2, pull to close, then bury it inside the body P3.
Arms (2)
R1 6 sc in a mr (6)
R2 [inc, sc]×3 (9)
R3-7 9 sc (9)
N Ss in next st. Leaving a long yarn tail, cut yarn, yo & pt lp on hook completely, pull to create a knot.
N Flatten arms so 1 side is shorter & yarn tail is centered P4, sew arms onto body with shorter side facing up P5.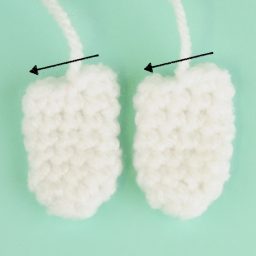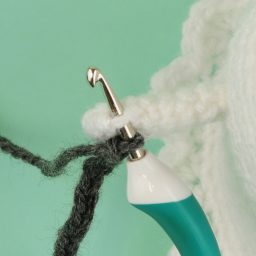 Chain
R1 ch 25, ss in arm P6, ch 25
N Cut yarn, yo & pt lp on hook completely, pull to create a knot. Trim yarn tails.
All done!
If you made your own Boo the Ghost, please share it with me on social media! @NeaCreates