Tunisian Full Stitch Infinity Scarf: Free Tunisian Crochet Pattern
November 18th, 2017 | Leave a comment | by Nea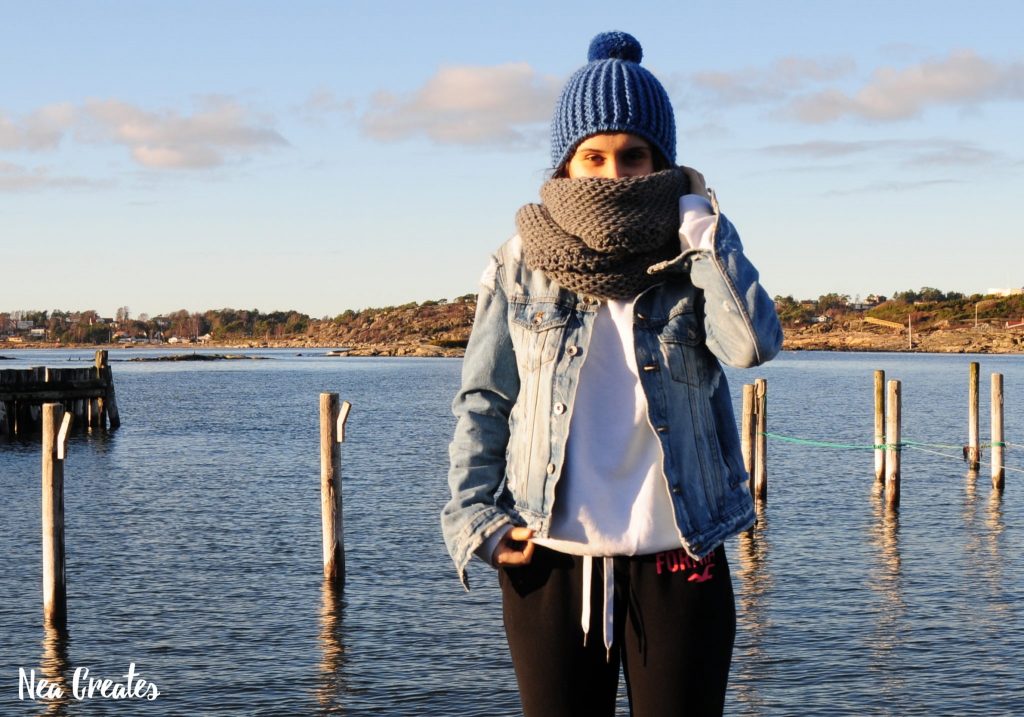 Hey there!
I've finally finished my fifth pattern!
If you've never even heard of Tunisian crochet before, don't be intimidated! It's like a happy mix of knitting and crochet, and if you know how to do normal crochet you'll pick it up in no time at all! Just remember that you need a special Tunisian crochet hook to do Tunisian crochet.
The Tunisian Full Stitch Infinity Scarf goes really well with the Ribbed Winter Hat which my sister in-law Sofija is wearing in these pictures.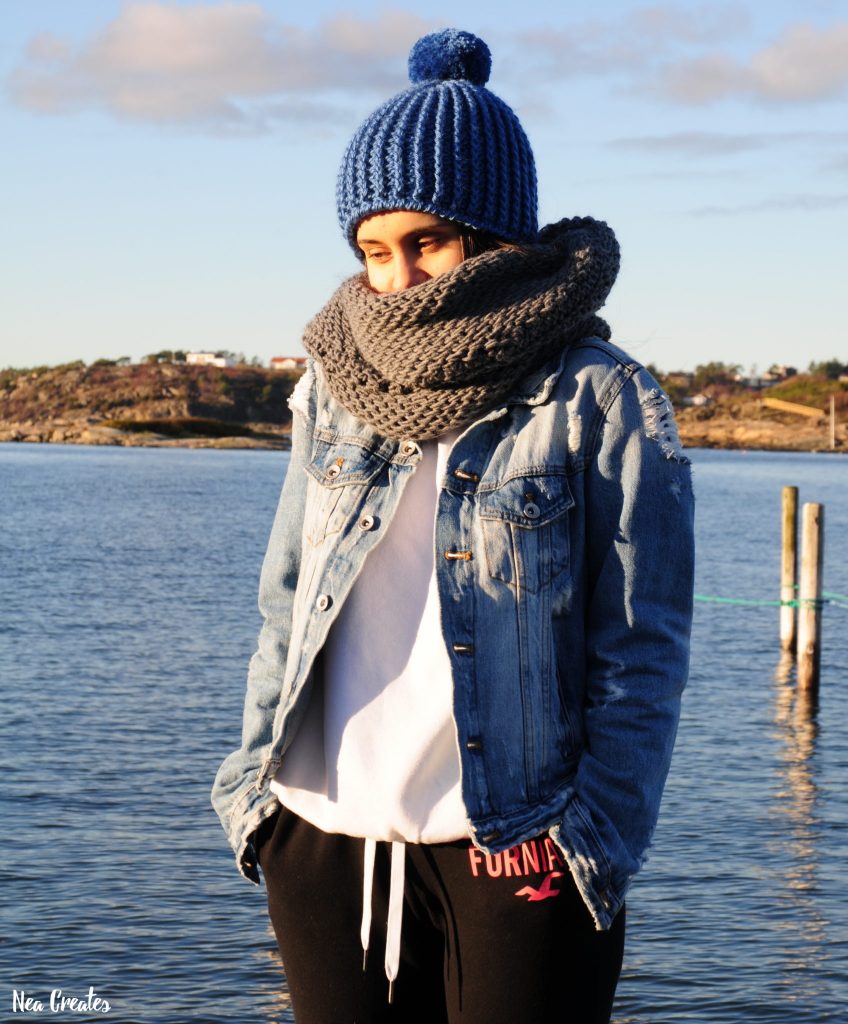 Lots of pictures of this one, 'cause I really like the look of this scarf.
I have up to this point made a Tunisian Full Stitch Infinity Scarf for myself, my mother, my boyfriend, my mother in-law and my other sister in-law. I like this pattern a lot. And also, Tunisian crochet is so much fun! The Tunisian full stitch creates such a great fabric too!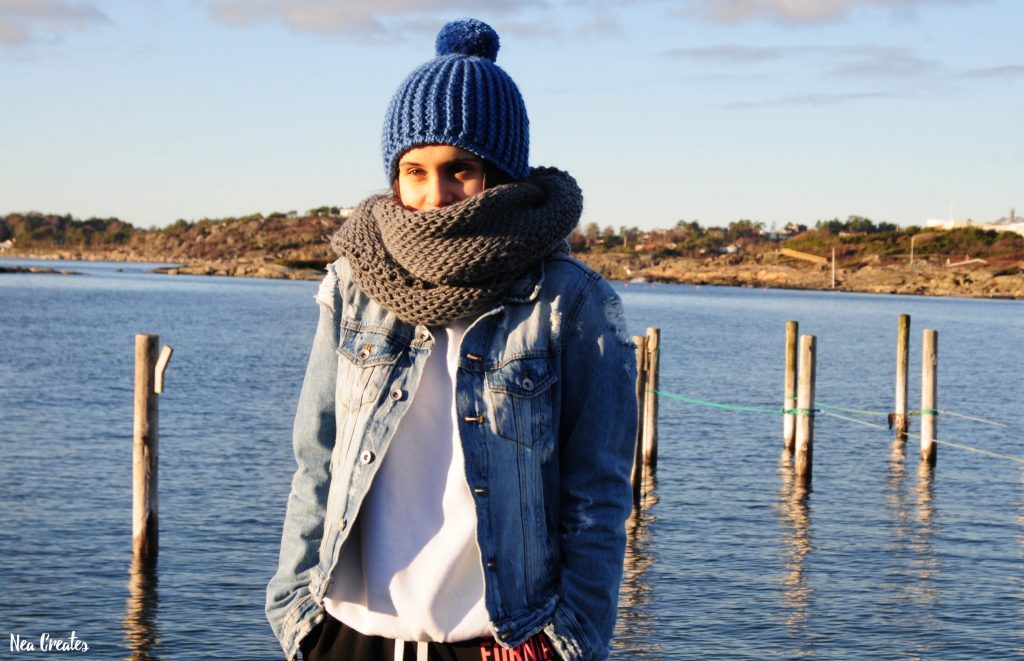 About the pattern
You can buy a bundle of two beautifully formatted PDF versions of this pattern on Etsy. One version uses color, while the other is made in black and white to be more printer friendly.
Here's the link to the Tunisian Full Stitch Infinity Scarf Ravelry page, if you would like to start a project there.
Disclaimer: This pattern is an original pattern by Nea Creates, it may not be redistributed in any way, shape or form. If you want to share the pattern you may link to the pattern post, you may not repost the pattern on your site. Items completed from this pattern may be sold, provided that you give Nea Creates credit for the pattern and provide a link to the pattern post or home page.
Finished size: One size fits most.
Difficulty: Easy, given that you're familiar with the Tunisian full stitch.
Notes: This pattern uses US crochet terms and SI units throughout. I used a 10mm Tunisian crochet hook to crochet this scarf, however if you don't have a 10mm the biggest size you have is also fine, just adjust the number of chains and rows.
Materials & Tools
– Yarn calling for a 5mm crochet hook in any color you like
(I used approximately 270g or 540m of Wool Cord 30 by Ice Yarns)
You can also use two strands of a lighter weight yarn.
– A 10mm Tunisian crochet hook (an 8 or 9mm is also fine)
– Stitch markers (optional) Scissors
– Yarn needle
Abbreviations & Stitches used
fp – Tunisian crochet forward pass
rp – Tunisian crochet return pass
tfs – Tunisian full stitch
yo – Yarn over
pt – Pull through
ch(s) – Chain(s)
lp(s) – Loop(s)
sp(s) – Space(s)
sk – Skip the indicated number of chs/sps
Pattern – Tunisian Full Stitch Infinity Scarf
N! Make a slipknot and chain until the chain measures approximately 38cm, I chained 30.
R1fp Sk 1 ch, then pu a lp in each ch across (30)
R1rp normal return pass, yo pt 1, yo pt 2 until only one lp remains on the hook

R2fp (tfs across) pu a lp in the first sp P1, then pu a lp in each sp across except the last, pu a lp in the last st P2-3 (30)
R2rp normal return pass
R3fp (tfs across) sk the first sp P4, then pu a lp in each sp across, pu a lp in the last st (30)
R3rp normal return pass

N! Repeat R2 and R3 until the scarf measures approximately 135cm (measured from the middle of one end to the middle of the other end), I ended up crocheting approximately 160 rows.
N! Turn the first row of the scarf around 360 degrees and lay it against the last row, right sides facing each other P5. Pu a lp in each sp of both the first row and last row P6-8 of the scarf, then pu a lp in the last st of both the first and last row, there should be one more lp than usual on the hook, so 31 for me, then do a normal return pass. This seam is al- most invisible P9.

N! Cut the yarn leaving either a long enough yarn tail to sew the edges of whole scarf together (3 times the length of the scarf should do it) or leave a more workable length of yarn which you can add to as you go along. Yo and pull completely through the lp on the hook, pull on the tail to form a knot. Fold the scarf so that the edges line up P10 and start sewing them together by going under two lps on each side P11.

All done!
Thank you for making the Tunisian Full Stitch Infinity Scarf!
Please share it with me on social media #NeaCreates!